Is discomfort in your lower limbs preventing you from participating in all the activities you would like to?
Canadian Certified Pedorthist (C. Ped (C)) are lower limb specialists who analyze your gait, perform functional movement tests, and work with you to help you Move Well, Be Well. They are experts in designing, fitting, and modifying custom made orthotics and orthopedic footwear.

Who should see a Pedorthist?
If you are unsure if you should see a Pedorthist, ask yourself the following questions:
If you answered yes to any of the above questions an assessment with a Pedorthist can help!
What can I expect when I see a Pedorthist?
Pedorthist specialize in 'feet' – they work with you to find solutions to help you Move Well, Be well. In order to provide an individualized treatment plan they begin with an initial assessment to get to know you (and your feet) better, analyze your gait, perform functional movement tests, and make recommendations that will help you move without pain and/or discomfort.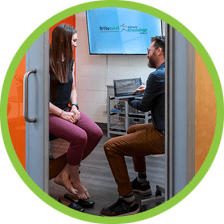 During your assessment, a Certified Pedorthist will begin by discussing your health history with you as well as the reasons for your consultation. They will then conduct a thorough assessment of your feet and lower limbs by evaluating your range of motion, analyzing your posture, and evaluating how you walk and/or run.
They will share and educate you on their findings and make recommendations from there. When appropriate, a Pedorthist may cast (or scan) you for custom-made orthotics or fit you for over-the-counter insoles. They may also professionally fit you with footwear that is appropriate for you or make recommendations on what to look for.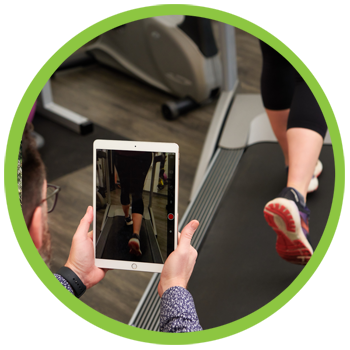 A Gait Analysis is a personalized clinical assessment that provides information about individual walking/running styles. Gait Analysis combines the review of your individual foot classification (high, normal or low foot arch) with the analysis of foot pressure, muscle strength and flexibility to provide the information needed to improve running styles and avoid injury.
Performing a personalized Gait Analysis is important to fully understand the makeup of your foot and its structure, allowing for a more comprehensive foot care treatment. Furthermore, the custom Gait Analysis can help to uncover the best possible shoe option for your unique footwear needs, or better yet, how to avoid the wrong shoe that might lead to injury. While we can't guarantee an injury-free performance, we can guarantee to help put your best foot forward.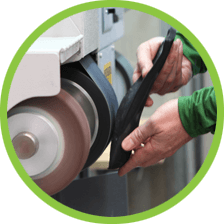 At Orthoquest, we believe in providing high quality products that help you Move Well, Be Well. The same values apply to every pair of custom foot orthotics we make for our clients. We are proud to make all our custom foot orthotics, right on-site in our lab – allowing us to make an orthotic within days, not weeks. We have had tremendous success in staying true to the craft by blending traditional methods with new technology.
Personal touch and attention to detail can make all the difference in providing a custom fit. The staff that greet you have a role in manufacturing your custom orthotics. Our results have proven to provide a noticeable difference in feel, comfort, symptom relief and effectiveness.
If you or someone you know are struggling with being able to do the activities you enjoy book an assessment with one of our Pedorthist and let us help you Move Well, Be Well.