Our new system allows us to digitally design custom foot orthotics and manufacture them inhouse.
At Orthoquest, we continue to educate ourselves on new technology and have introduced a 3-D laser scanning system into our clinic, complimented by a CAD/CAM milling machine in our on-site Lab. Our new system allows us to digitally design custom foot orthotics and manufacture them more quickly, reducing our client's waiting time between initial assessment and dispensing of the product. We can design custom foot orthotics to fit a variety of everyday footwear as well as specialty footwear such as ice skates, cycling shoes, and ski boots.
We continue to use our traditional methods to cast for custom foot orthotics, including foam box casting and plaster, but have adapted to using our 3-D laser scanner as well. Our pedorthist's work one-on-one with you to analyze your symptoms, alignment, and biomechanics to help decide which casting technique will provide the most desirable outcome. All of our custom foot orthotics are evaluated throughout production by our Pedorthist's and are finished off with a comfortable cushion topcover.
Your feet are unique, as is your treatment plan.
The custom foot orthotic industry is evolving and this is evident from the orthotic design process through to manufacturing.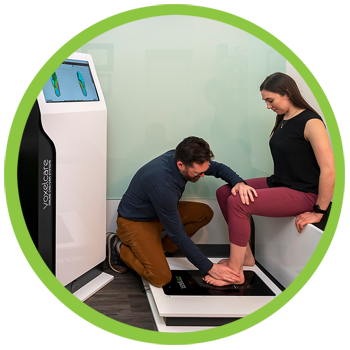 3-D laser image scanning and CAD/CAM Manufacturing
This method starts with a 3-Dimensional model of your foot that is captured using a laser scanner.
Once we have a digital 3D model of you, we can design a custom foot orthotic to match each foot's individual arch shape
The design process involves a variety of different modules and can include items such as: metatarsal pads, heel lifts, modifying the amount of support for the arch, etc. Each foot is unique in its own way and so is each custom foot orthotic
When the design is complete, material is selected for the orthotic to be made from, the information is sent to the milling machine, and the orthotic starts to become a physical product
After milling is complete, each orthotic is carefully reviewed and moves to the final steps of adding a cushioned top cover and shaping the orthotics to fit into your shoes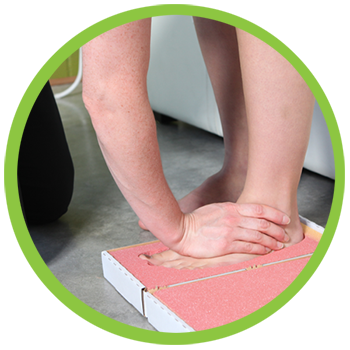 foam-box casting and traditional manufacturing
This method involves taking an impression of your feet using a foam casting box and creating a 3-D model by filling the impression with plaster.
We start to create an orthotic by heating material and vacuum pressing it to the plaster model of your feet. The material used for the arch support portion of your orthotic depends on your unique foot shape
Once we have arch support that matches your foot model, we use a variety of manual grinding techniques that creates a device that will fit within your footwear
The final steps involve adding additions such as metatarsal pads, heel lifts, etc. and are concluded with adding a cushion top cover and trimming the orthotic to fit the length of your footwear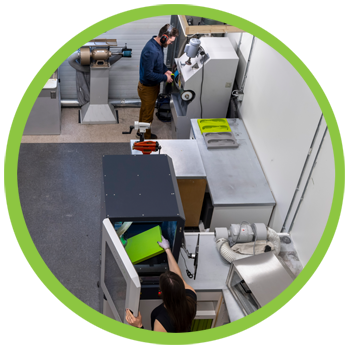 Every pair of custom foot orthotics are made inhouse
With certain designs of orthotics we are able to make them the same day of the assessment, this is ideal for anyone who is travelling from out of town or requires a quick turnaround time
Our Pedorthist are part of every step of the process from assessment to manufacturing to fitting the custom foot orthotic
Making our own custom foot orthotics allow us to easily modify (or make changes) as needed
If you or someone you know are struggling with being able to do the activities you enjoy book an assessment with one of our Pedorthist and let us help you Move Well, Be Well.